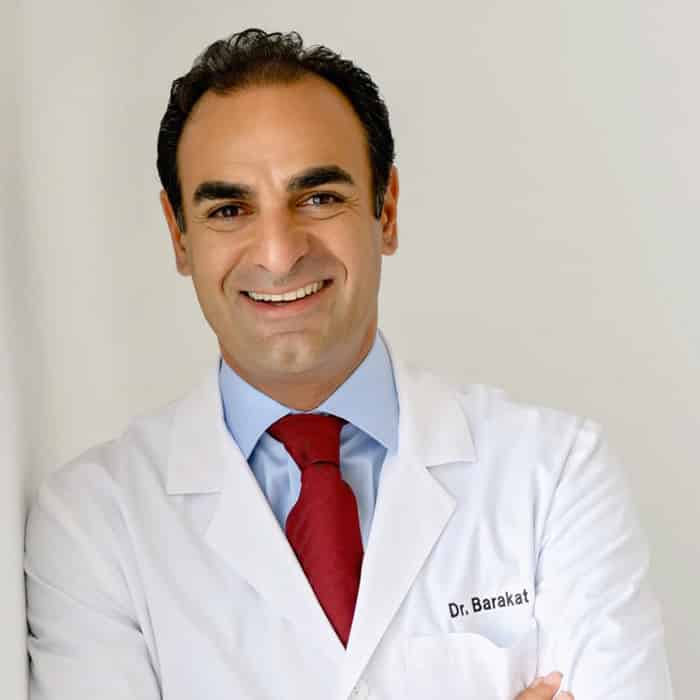 As a Diplomate of the American Board of Oral Implantology (ABOI), Dr. Hisham Barakat is recognized as one of the top implant dentists in the United States. He is one of six Board Certified Implantologist in the state of Virginia and one of four Virginian dentists who specializes in The Chao Pinhole® Surgical Technique (PST) – a scalpel-free, suture-free procedure for correcting gum recession. Dr. Barakat is one of just 445 dentists certified by the ABOI in the United States and one of 10 practitioners in Virginia to hold this certification.
Dr. Barakat earned his dental degree in 1998 from Alexandria, Egypt. He then completed a one-year advanced education in General Dentistry Residency at Louisiana State University.
He also completed a two-year General Practice Residency at the Louisiana State University Health Sciences Center. After completing his residency, Dr. Barakat joined a private group practice in Virginia Beach, where he practiced for more than seven years. During his tenure, he was both a valued Board member and core doctor.
In addition, Dr. Barakat has been awarded Mastership status in the Academy of General Dentistry (MAGD). To achieve this, he was required to attend over 1,100 hours of continuing education covering all phases of dentistry, 400 of which involved participation courses and case presentations.
Dr. Barakat is a credentialed member of the American Academy of Implant Dentistry (AAID) and has been awarded Fellow status. Dentists who receive this honor have been certified by their peers and have worked hard to meet national standards of education and practice in oral Implantology.
He is also a Diplomate of the International Congress of Oral Implantology (ICOI), which is the highest credential offered by this internationally recognized organization for dentists who have shown excellence in Dental Implantology.
Furthermore, Dr. Barakat also enjoys lecturing both nationally and internationally about implant dentistry to help increase the education of his fellow dentists. Dr. Barakat currently serves as a part-time faculty member at the Medical College of Virginia School of Dentistry. He also served as the Continuing Education Chair for the Academy of General Dentistry Virginia Chapter.
In 1998, Dr. Barakat completed the Medical College of Georgia/ AAID MAXI-COURSE in Implant Dentistry, the Maxi-Course is among the most respected and comprehensive training programs in implant dentistry. Offered in university settings throughout the U.S. and internationally, the course presenters include renowned university faculty, world-class clinicians and the country's top authorities in implant dentistry.
Dr. Barakat's honors and awards include:
2015: President of the Southern District of the American Academy of Implant Dentistry

2012: Fellow of the American Academy of Implant Dentistry

2012: Spear Education Faculty Club Member

2011: Diplomate of the American Board of Oral Implantology/ Implant Dentistry

2011: Served as a Delegate for the state of VA at the AGD meeting in San Diego, CA

2009: Diplomate of the International Congress of Oral Implantology

2009: Associate Fellow of American Academy of Implant Dentistry

2009: Mastership of the Academy of General Dentistry.

2009: Continuing Education Chair of the Virginia AGD

2008: Fellowship of the Academy of General Dentistry

2008: Fellowship of the International Congress of Oral Implantology
Dr. Barakat is also a member of the:
American Academy of Implant Dentistry

American Academy of Cosmetic Dentistry

Academy of Osseo integration

International Congress of Oral Implantology

Academy of General Dentistry